How much are hearing aids?
The hearing aid market can be challenging to navigate. Learn how much hearing aids cost, what's included, and more.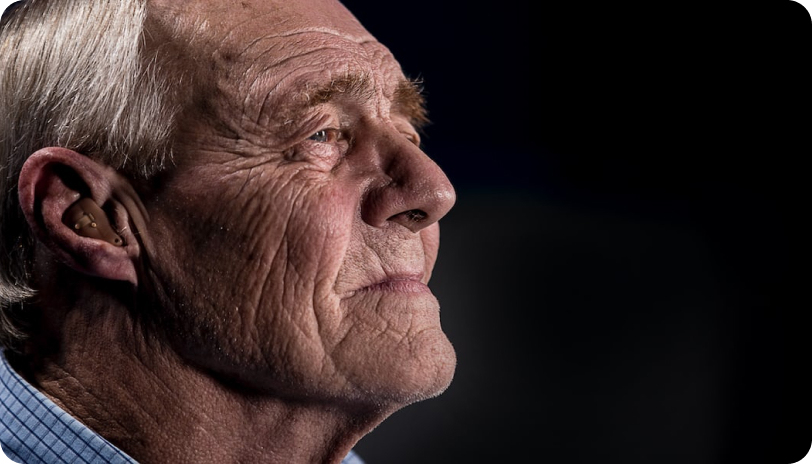 Experts say consistent bedtime habits can help produce quality sleep. Martí Sans/Getty Image/ How much are hearing aids?
The 3 key takeaways
The average price of a single hearing aid varies  — Prescription devices can cost between $1,000 to $3,000 per ear, though specialty or specially programmed devices may cost more.
The sticker price may include more than a hearing aid — The wearer pays upfront for check-ups and maintenance with bundled services.
Several factors affect the cost — The type of hearing aid, technology, and model all factor into the total cost of a hearing aid.
How much are hearing aids? It's a complicated question, and the answers vary based on n numerous factors, including whether you are bundling services or buying over-the-counter. The U.S. Food & Drug Administration approved the latter option in 2022 — a landmark rule meant to increase access to hearing aids. However, experts and advocates, including those at the American Academy of Audiology, believe it's only one step of many needed to solve the problem of high prices for hearing aids in the U.S. If you're navigating hearing aid costs, you may have several questions.
An audiologist can help you find answers, but we've compiled a comprehensive guide to get you started.
How much do hearing aids cost?
The average cost of a prescription hearing aid device ranges from $1,000 to $3,500. If a person needs hearing aids in both ears — which many do — the total price will be around $2,000 to $7,000.
However, prescription hearing aids are no longer the only option. In 2022, the U.S. Food & Drug Administration finalized a rule allowing people ages 18 and older to buy hearing aids over the counter. These days in the United States, people can purchase OTC hearing aids at big-box retailers like Costco Hearing Aid Centers and Walmart.
Online retailers also carry them, but prices vary widely. Hearing aid patients should note that over-the-counter hearing aids do little for those with severe to profound hearing loss.
What is included in the cost of hearing aids?
Navigating hearing care can feel overwhelming, particularly when you factor in the high cost of prescription hearing aids. One of your options for potentially lower costs is to compare bundled and unbundled services. Unbundled will cost less upfront, for example. This way to save is typically available to an individual with hearing loss, giving more people access to care.
Bundled hearing aid services
As the name implies, bundled hearing aid services mean that most, if not all, aspects of a person's hearing care are included with the price of hearing aids. This price tag consists of the cost of the medical devices themselves and a professional fitting with a hearing care professional. The bundled cost of hearing aids typically includes the devices, initial fitting, orientation, and additional services.
These services usually include all follow-up visits for adjustments, fine-tuning, cleaning, and maintenance. Follow-up visits are typically included throughout the warranty period, but some audiologists offer lifetime follow-up services in their bundled model.
Pros of bundling
It streamlines costs. With bundled services, you get most, if not all, aspects of hearing aid care covered for one price. Hearing aids often need maintenance throughout their lifetime and at no additional cost. By bundling services, you avoid paying service fees at each visit.
Less stress. If tracking every penny and new category related to your hearing aid costs feels overwhelming, bundling services may bring peace of mind.
Diagnostic testing may be included. Sometimes, the first diagnostic hearing test will be bundled with the price. Learn more about the different types of hearing tests.
Cons of bundling
Read the fine print. Some providers may limit the number of appointments you can book for fine-tuning.
You may be paying a high price tag for services you don't need. Can you handle cleaning and maintaining your hearing aid on your own? You may not need as many visits and may end up paying less by unbundling your services.
Lack of transparency. You don't get an itemized list of what you're paying for, so it's unclear if the high price is primarily for the prescription device, fitting, check-ups, etc. Consequently, you can't re-evaluate whether bundling is worth it when purchasing a new hearing aid.
Unbundled hearing aid services
Unbundled hearing aid services offer a more a la carte approach. You're paying for the hearing aid rather than the services, such as testing and fine-tuning. This option has become increasingly attractive to patients with mild to moderate or self-diagnosed hearing loss in the wake of the new FDA rule, which opened up a more competitive marketplace.
However, the rule doesn't apply to prescription hearing aid users, who still must be evaluated and prescribed devices by an audiologist.
Pros of unbundling
Transparency. With unbundling, you know where your money is going and can itemize expenses.
The lower cost upfront. The main reason for someone's decision to go with unbundling is the lower initial cost.
Can you handle cleaning and maintaining your hearing aid on your own? You may not need as many visits and may end up paying less by unbundling your services.
It leaves room for your unique needs. You may need fewer fine-tunings and follow-ups than the average hearing aid wearer. Unbundled services don't lump all users together.
Cons of unbundling
More expenses. The need for maintenance is inevitable, so you will incur those costs eventually.
Foresight needed. You'll need to plan, track, and budget for additional costs, so the unbundled model is not as streamlined.
More stress. If the process of needing a hearing aid already feels like a lot, all the tracking and foresight may exacerbate the issue.
What factors affect the price of hearing aids?
The average price of a single hearing aid has such a wide range because many factors go into setting it. Here are some of the main factors:
Additional features. The hearing aid market is quite diverse. Advanced technology has given rise to extra features that enhance sound quality and everyday life. Artificial intelligence, directional microphones, the ability to connect with electronic devices like smartphones via Bluetooth, and more can result in a higher price.
Medical insurance coverage. Currently, hearing aids are not covered by Medicare. However, private insurance companies and Medicaid may cover part of the cost. It's a good idea to check with your provider.
Batteries: Rechargeable batteries typically cost more upfront but can save time and money long-term.
Year of the model. Like cars, hearing aids come out with newer models constantly. An older one is likely to cost less. Even choosing last year's model, which often has similar features, can allow you to save on high-quality hearing aids.
Services. A device isn't the only factor in maintaining your hearing health. You'll need support, maintenance, check-ups, and additional testing. These professional services may be included in the price tag of a hearing aid (especially if you opt for bundled services).
Types of hearing aids and their costs
There are many different styles of hearing aids to help meet the unique needs of hearing loss patients. For example, people with active lifestyles may prefer an invisible-in-canal device, which rests deep within a person's ear canal. Others may opt for a behind-the-ear (BTE) model.
The shape and size of the hearing aid will not change the price at a typical clinic unless you're adding a custom earmold to a receiver-in-canal device. Phonak Life's waterproof hearing aids also cost a bit more.
The main factor in price is the chip on the inside (the technology level).
For example, you can get a Starkey CIC for $ 1500 or $ 3100. It depends on the technology level rather than the shape. Hearing aid manufacturers typically offer four to five technology levels but at least three. A hearing aid with more features and faster processing will cost more — similar to a computer, TV, or mobile device.
Features that would increase costs include:
Wind noise reduction
Faster speech processing
More noise suppression
Beamforming directionality, which helps focus on a speaker in background noise
Feedback canceller
Tinnitus management
Echo blocker
Own voice processing
For example, a Starkey Genesis 2400 will cost about $6,500 per pair, while the Starkey Genesis 1200 will be around $3,000 per pair because of different features. The ReSound Premium tech (Omnia 961) and Phonak Premium (Lumity 90R) would cost the same for the consumer (about $6000-6500 per pair)
Insurance and financing options
Navigating hearing aid prices can feel like a tall task. Ditto for finding affordable hearing aids. You may be eligible for financial assistance or have financing options available to you.
Warranties
Factory warranties typically last one to four years, depending on the technology level, and cover loss, damage, and repair. You'll want to check with your audiologist to understand your device's warranty terms and conditions. For example, Widex will not honor a warranty if the device was purchased from an unauthorized dealer.
Starkey offers a standard limited warranty, which all manufacturers' devices have, on new devices that need repair because of a component failure, have fixable external damage, and require a remake because they don't fit properly.
OTC aids also come with warranties.
Jabra Enhance offers a one-year warranty for repair, loss, and damage to hearing aids and chargers bought directly from the brand. Wearers or their caregivers can purchase a Premium Care & Protection Package and receive three years of coverage on their hearing aids initially bought from Jabra Enhance. Some exclusions apply.
Sony's one-year warranty on OTC devices covers repair but not a replacement.
Insurance
As we mentioned earlier, hearing aids often aren't covered by medical insurance or Medicare Advantage plans. However, some states require health insurance policies to cover at least part of the cost. According to the American Speech-Language-Hearing Association, the following states require health benefits to cover pediatric hearing aids:
Colorado
Delaware
Georgia
Louisiana
Maine
Maryland
Massachusetts
Minnesota
Missouri
Montana
New Jersey
New Mexico
North Carolina
Tennessee
Texas
Vermont
Benefits must cover adult and children hearing aids in:
Arkansas
Connecticut
Illinois
New Hampshire
Rhode Island
Wisconsin requires insurance policies to cover hearing aids and cochlear implants for children. The requirements may vary by state for multiple factors, including age, such as what qualifies as a child, and coverage amount.
Organizations, including the American Bar Association (ABA), have called attention to the need for greater access to hearing aids. The ABA called for broader hearing aid coverage, citing, among other data, the fact that age-related hearing loss is one of the most common conditions among older Americans.
Financing Options
Most hearing aid providers offer financing options. Typically, the wearer will go on a payment plan, opening a credit card or credit line to pay back the overall cost in smaller increments. An audiology center may also offer a leasing plan, and you can trade your device for a new model with upgraded technology after a period of time (similar to what people do with cars).
Over-the-counter hearing aids
In 2022, the FDA approved over-the-counter hearing aids for adults 18 and over. The ruling allows individuals to purchase FDA-regulated medical devices even without a hearing exam or audiologist appointment. No prescription is required.
The pros of over-the-counter hearing aids
The FDA ruling on OTC hearing devices made way for key benefits, including:
Cost-effective — OTC hearing aids cost around $300 to $900 annually — significantly lower than the average price of prescription hearing aids.
No need for a prescription — This helps streamline the process and cut costs.
Adjustable and often Bluetooth compatible — Some customization is possible. OTC devices may offer technology features of prescription devices, like Bluetooth compatibility, allowing the wearer to talk on the phone, watch TV, and more, though they likely cost more than those without these features.
The cons of over-the-counter hearing aids
The OTC hearing aid market opened the door for multiple benefits. But you'll want to consider these drawbacks, too.
Not designed for those with severe to profound hearing loss — Most OTC hearing aids are not powerful enough for patients with severe to profound hearing loss. Individuals with severe or profound hearing loss and those who have trouble with background noise will still need to go through a hearing care provider.
May not be custom fitted — Without an appointment with a hearing care professional, the wearer may be taking their best guess on fit.
Not always matched to a hearing test — No hearing test is required, so a person may not choose the absolute best device for their unique needs.
Our favorite over-the-counter hearing aids
Over-the-counter hearing aids are an exciting development. Brands like Lucid Hearing, Eargo, GoHearing, and Jabra Enhance are among the popular OTC hearing aid providers. These are three we love.
Jabra Enhance. Jabra Enhance medical-grade hearing aids offer similar quality as prescription devices for people with mild to moderate hearing loss. The company's customer service, including virtual and in-person support from audiologists, help set Jabra Enhance apart.
Lexie. Modern technology can offer great perks, but not everyone is tech-savvy. Lexie's easy-to-use devices don't require you to be.
Sontro. These BTE hearing aids are some of the more discreet on the market. The otoTune app helps the user match their device to their environment.
Hearing aids are expensive, with prescription options carrying four-figure price tags. But a 2022 FDA ruling opened the door for OTC options for people with mild to moderate hearing loss, which is considerably lower, coming in at under $1,000 per device.
Many factors can increase the price, including whether you bundle professional services, add customization or technology, or purchase the newest model.
Frequently asked questions
What is the average cost of a hearing aid?
The average cost of one prescription hearing aid is typically about $1,000 to $3,500. However, if a person needs two devices, that price tag is higher — $2,000 to $7,000.
Are hearing aids worth getting?
Yes, if hearing tests indicate you need one. Hearing aids can benefit your overall health and quality of life, allowing you to communicate and experience the world around you.
How long does a hearing aid last?
Typically, a hearing aid will last three to seven years, but it varies by the device and person. For example, if a person wears it for more hours per day or it undergoes more wear-and-tear, the hearing aid will have a shorter lifespan.
How much do hearing aids cost from Sam's Club and Costco?
The price at big-box retailers varies significantly by the type of hearing aid, advanced technology, and model. It's a good idea to do your research and look at a few devices to see which ones meet your unique needs and budget.
Does Medicare cover hearing aids?
No. Medicare does not cover personal medical devices like hearing aids. Most insurance companies do not cover hearing aids, either. However, there has been discussion of changing insurance coverage, providing good news and hope for people with hearing loss.